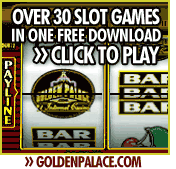 Slot machines are often advertised as paying out a certain percentage. What does this mean? For example if a slot machine advertisement says 'Payout Percentage 96%', this means that over time the slot machine will payout 96% of all the money played through it.
It does not mean that if you put $100 in you get $96 out. You could get less or much more depending on your luck. Just remember that the payout percentage is a percentage of the total wagered by all players over time. It also takes the jackpot potential of the machine into account, meaning to actually get 96% of what you wager back you may have to play the machine until you hit the biggest paying jackpot, which can certainly take a hearty sized bankroll. See how great these slot machine tips are? You're more informed already!
Money management is important in all areas of gambling, don't get fooled into thinking it's only for blackjack players. The simple premise of managing your money is summed up with one statement: Don't put it all back in! If you hit a good win don't put it all back into the slots again. Try keeping a percentage and putting a percentage back in. This way you will always end up with at least some of your winnings still in your pocket. If none of the other slot machine tips listed here speak to you, I hope this one does!
For example if you were to win $1000, you could play with 10% of that ($100) and if you win again play with 10% of that. If you don't win again at least you then have $900 left for another day.
Money management can be achieved by simply paying more attention than you normally would to how much you're playing with. The play through method is a great way of making sure that you usually leave the casino with at least some money. What you do is decide how much money you want to play with and then play it all through your slot machine once and only once. This can be done by calculating your total amount divided by your bet size.
For example $50 total divided by $0.50 would give you 100 spins of the reels. At the end of these 100 spins you then take out whatever is left and move on. You may have much more than you started with or less but at least you will almost always have some money left.
If you have any great slot machine tips to share with the world, I'll post them here! Just and I'll get right back to you!