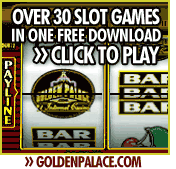 EasySlots.com helps you find the best spots around to play progressive slots on the web. Progressive slots are slot machines which are networked with one another and which provide a grand prize above and beyond the regular pay-table of the machine. Picture the land based version first: if you walk into any major casino in Vegas you will see progressive jackpot numbers advertised everywhere. This is because the numbers are so big it is one of the best ways for the casino to get slot fans in the door.
Each of the machines offering the progressive jackpot are linked to each other electronically. A portion of the money being played through each machine is added to the 'progressive jackpot' total on all of the machines. So even machines which aren't being played have their jackpot climbing continuously, as other machines which are part of the same network are being played elsewhere in the casino, or perhaps even in an entirely different casino down the strip!
There are a couple of major companies that control the largest progressives available. The companies are independent of the casino owners, which is why you can often find the same progressive jackpot, and by virtue the same rising jackpot total, in two otherwise unrelated casinos. The reason the system works like this is pretty simple really. The casinos themselves couldn't afford to pay off massive jackpots like the ones attainable from these big progressive networks. Yes I know it's strange to hear that a casino may not be able to afford something, but it's true. If you look around it's quite possible that you will find a smaller progressive that is owned by the casino you're in, and is only networked with machines in that casino, or perhaps the set of two or three casinos which are jointly owned. These smaller progressives offer much lower jackpots, but also offer much better odds than the large universal progressives.
Online things aren't really all that different. There are a couple of large software makers who supply much of the industry with their casino games. These software makers have also developed networked progressive jackpots. There are now a large number of progressive slots available on the Internet, may of which are networked together to garner rather large jackpot totals. The odds on these are, of course, not as good as the smaller progressives run by online casinos such as the Grand Online Casino.