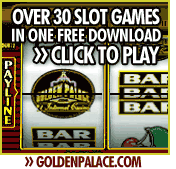 The original Las Vegas moneymaker, and the original Las Vegas heart breaker
If you've ever read up on slot machine history (there are lots of sites out there), then you probably know how the inventor also pioneered the way casino slots are used today. Charles Fay created the first machine, and then took the extra step and licensed the use of it to the local gaming parlor. The end result was Fay receiving 50% residual payments on whatever the casino made, which certainly wasn't a little, casino slots have been extremely popular since their inception.
Today it's estimated that slots make as much for any given casino in Las Vegas as all of the table game profits combined. Strangely enough, slots also pay out more to gamblers than any other game in the casino. It's simply the most profitable for both ends, which means it must command a pretty strong presence. In fact a casino's slots can take up as much as 70% of the entire casino floor. But many of the slot machines on the casino floor aren't owned by the casino themselves. Likening back to the days of Charles Fay, big money progressive networks are often owned by outside companies. A large company may own a set of machines that are all connected together, even across casinos, enabling a very, very large progressive jackpot to build up. These jackpot numbers are gold to the casinos, because they make it easy to attract new players. The large companies license use of the machines to the casinos for a large percentage of the profits. The casinos eat up the opportunity to bring more people into their property, so don't mind giving up some of the profits, as it's pure profit for them too. Pretty sweet deal for both parties involved, and it let's us all play for bigger, life altering jackpots.
Casino slots are each individually set to a payout rate, or payback percentage, when they are put together at the factory. What a casino does is buy a set of slot machines at payback percentage that vary a little, but as a whole average out to a known number. This number is what the casino can advertise as its slots payback percentage. So if a machine is not part of a progressives network, then it most likely falls into the group of machines that contribute to the averaged payout percentage. An exception to this occurs sometimes when you find a set of slots with separate advertising on its payout rates. You will likely find a sign above a set of separate machines that says something along the lines of '98% payout guaranteed'.
So since we know that the majority of casino slots have their payout rates averaged together to create an overall payback percentage number, we know that some machines probably pay back better than others. If you want to make finding one of these machines your personal challenge, I wish you much luck, there's lots to choose from. But keep in mind, if we take a logical glance from the casino's perspective, it wouldn't make a lot of sense to have a set of machines with particularly good payout rates, because they would then have to have a corresponding set of machines with horrible payout rates to compensate. If they did this, the Las Vegas locals wouldn't be too slow to catch on, trust me, they know their casinos. Chances are then, that the difference between the best machine in the place and the worst machine in the place might not be a very big difference.

For a long time there have been reports of 'logical' placement of looser slot machines in select areas of the casino floor. Generally the argument follows the idea that the casinos want to put 'loose' machines in visible locations, so more potential patrons will see and hear more winning jackpots. Hence you might have more luck playing a machine that is near the end of an isle, at the center of a visible area, or elevated to be seen from many different angles. Recently however these theories have come under scrutiny. I get the impression that this may very well have been true a couple of decades ago, but as soon as slots players started to organize themselves a little bit, they caught on. Recent evidence suggests that the casinos no longer place looser slots in and predictable locations.